K Aubrey Flowers
Welcome to K Aubrey Flower Workshops, where creativity blossoms!
Immerse yourself in the art of floral design with our hands-on workshops that will inspire your inner florist!

Here's what you need to know:

Each class revolves around a theme. For example, we've held "1989 Eras - Taylor Swift", "Barbie", and holiday themed workshops. We are passionate about centering our workshops around current trends and always open to suggestions! In addition to the flower arrangement, our class will include snacks, drinks, and 20% off all vintage goodies.

The images on our website or Instagram, @kaubreyfloralandvintage, are representative of what a design might look like, but not exact. We hold off on ordering flowers until a week before class to see what is available at the best price from our wholesalers. This also ensures you are working with the freshest of flowers.

We account for breakage and loss, so please understand that if you have one or two unusable blooms, there are still more than enough blooms to fill out your arrangement. You will also be provided with your vase, clippers, a list of included blooms, and any other tools you may need.

**PLEASE NOTE: This is an IN-PERSON WORSHOP, AT OUR SHOP LOCATION, 1401 King Street, Alexandria, VA 22301. No recordsings will be available. Please understand that we are unable to accomodate any additional guests who have not purchased tickets. Unfortunately, at this time, children are not welcome to attend the flower class.

Workshops are approximately 2 hours in length, and after the workshop, we kindly invite you to shop our vintage selection of goodies! All vintage items will be 20% off to those who participate in the workshop.


Cheers to a lovely flower class together!"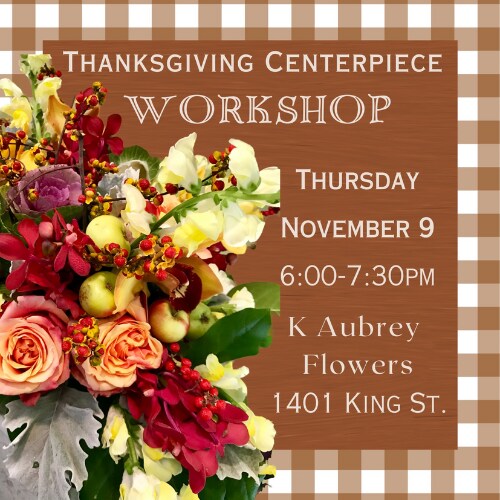 Click here to purchase your workshop now.
Thank you for supporting K Aubrey Flowers.